The great Covid transformation project + other 22 updates for '23
Happy New Year to everyone. We are back IN IT, happily, and have a full line-up of amazing projects to share this year.
The project we just had photographed is a very special one for us. Our client, a top infectious disease doctor who works for LA County, had lived in this 1940s Culver City cottage with her young daughter for years. When the pandemic hit, she realized just how important their living environment was - and how much it needed to change. The home didn't feel efficient, it didn't feel finished, and our client was anxious to transform not only the function but also the feeling of all the spaces.
We accepted the challenge - made trickier because our client and her daughter needed to live in the house during the renovation.
Our solution to the home being occupied was to work in phases, with only a two-week period when it had to be empty to refinish the floors. (When you have a great and trusted contractor, this is possible).
Phase One was the kids' bathroom renovation AND the garage. The garage wasn't part of the initial scope of work, but we needed to make the 1,500 square foot home feel less cluttered - and sometimes you have to look outside the home for a solution. We had the garage concrete floors polished, and enlisted our garage cabinetry crew to create as much storage as possible.
Phase Two consisted of the kitchen and primary bathroom remodels.
During our design process, our client kept mentioning storage. We knew that we'd be doing a good amount of millwork inside the house to address that, but we ALSO found a way to add more square footage by enclosing an existing outdoor landing. Result: a brand new entry room.
Practicalities aside, we also wanted to have some fun with this project, so we created a secret library door that leads you into the powder room.
Overall, the home gained a kitchen island, that secret door, the bonus entry room, and a finished/functional garage... but the real win was the genuine happiness that the transformation brought to our client and her daughter. This is WHY we do what we do.
Let's begin with my favorite feature - the secret library door to the powder room: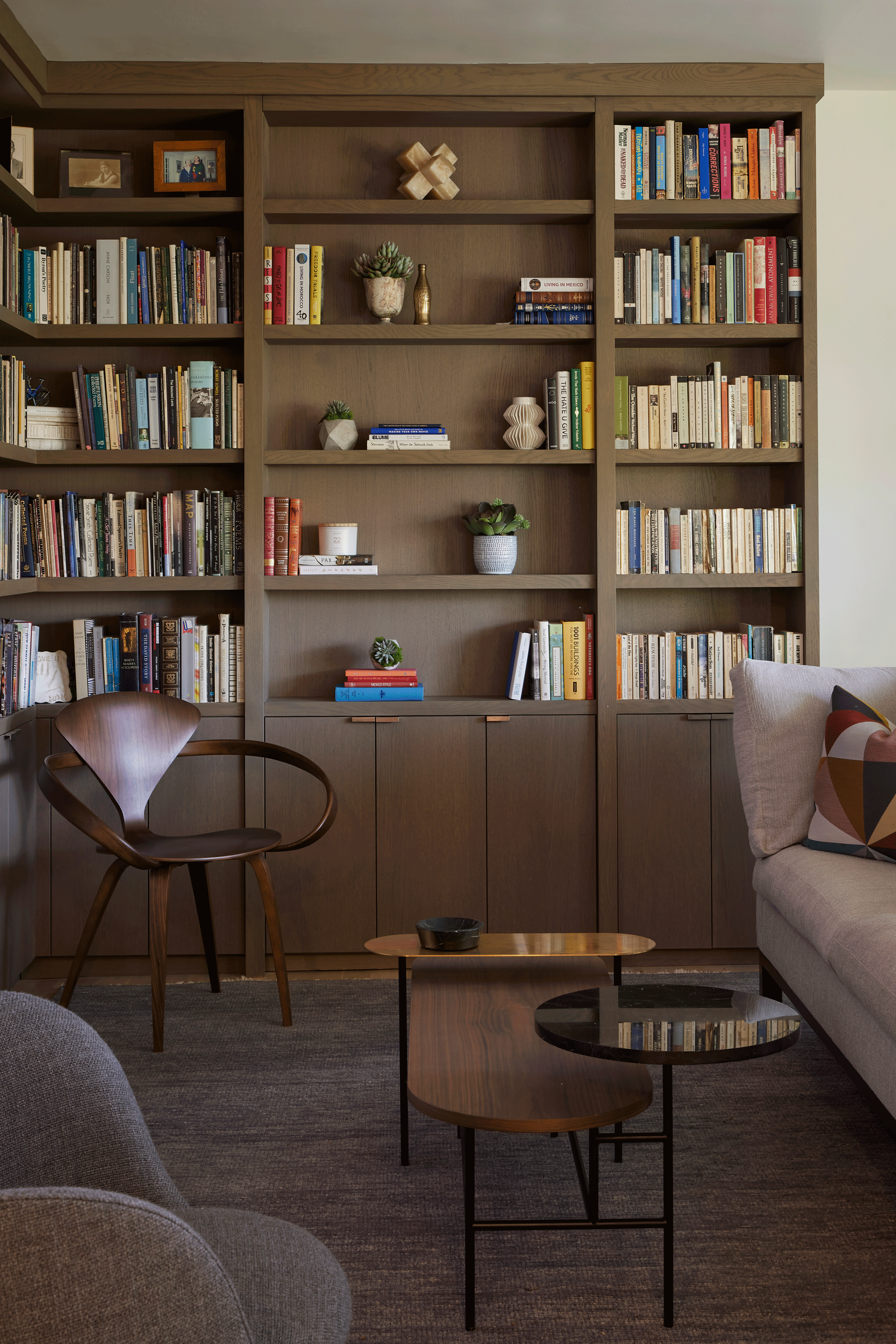 And now the other spaces. We kept things as light, crisp, and organized as possible. Click on the photos for a full view:
Thank you to Noah Webb for the beautiful photos.
In other news, we are THRILLED to announce that we are a LUXE magazine 2023 Gold List honoree. It's a huge honor to be among so many great talents. Thank you @pamelajaccarino and the Luxe team for the recognition.
Check out the issue on newsstands now. #LuxeGoldList2023
A sneak peak of what's to come from us in 2023: A Beverly Hills whiskey lounge and office space (yup, you read that right!); the family home of a truly badass music industry playa; a classic Hawaiian brand's new commercial space in Old Town Pasadena; an incredibly cool 70s-vibes beachfront house in Malibu; a traditional ranch redo in the Palisades; and that sweet cottage in Amagansett, NY... and it's only January!
As always, thank you for reading.
Lucie + Team 22 Interiors